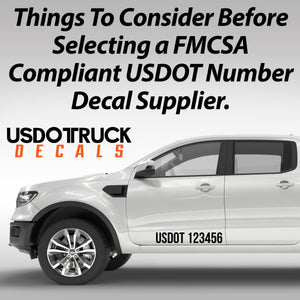 Things to Consider Before Selecting a FMCSA Compliant USDOT Number Decal Supplier
You must consider a few important points before selecting your usdot # truck door decal supplier.
They should have a variety of USDOT number decals to choose from, ideally with product reviews. This insures quality, as well as establishes a social presence and reputation
They should offer a good selection of products that are FMCSA compliant and offer options to personalize your custom truck door template. Not all truck door templates are ideal for all types of operations. The supplier should be willing to work with you to create a custom decal for your specific needs without additional design service fees.
Always be sure that your custom template can be replicated.
If you plan to expand your company, and your fleet, you want to be able to purchase the exact same decal again.
The ability to replicate a template is especially important if you do not have an established brand, or logo. A professional, FMSCA approved truck door lettering company will be able to produce a logo for you from scratch. "Sign shops" will not offer this highly specialized service, as it requires a level of experience thats not very common, in order to create custom graphics.
Pro tip: If you plan to purchase from the same supplier again; you may be able to get a specialized quote. Be sure to mention this to the seller early on, so that they can quote you appropriately. Specialized truck door decal suppliers are often seeking lifelong customers and they want to establish a relationship with your company; this is a key sign of a quality company.
Lastly, look for a satisfaction guarantee. You want to feel confident with the quality and should have an understanding of the suppliers policy's before placing an order.
Thank you for taking the time to review these points to consider before selecting a supplier for custom FMCA compliant USDOT number decals; we hope you find these tips helpful in your search for your custom commercial vehicle door decals and magnets.
We look forward to working with you!
---