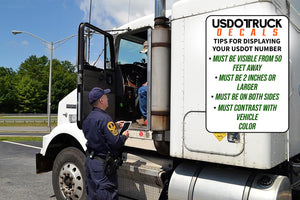 Tips For Displaying Your USDOT Numbers Outside Of Your Commercial Vehicle | Be US DOT Compliant By Following These Basic Rules
Your USDOT numbers must be visible from a distance of at least 50 feet away. Your USDOT numbers must be 2 inches in height. While this is the bare minimum, we recommend displaying your lettering larger for easy readability such as 3" or 4" inch lettering.
Your USDOT & other regulation numbers must be clearly displayed on both sides of the commercial vehicle and the color must contrast with the color of motor vehicle.  If your truck is white, then you want to display your number decals with a navy or black lettering. You want to make sure your lettering is visible.
What are the benefits of displaying your information nicely and professionally?
The benefits are many but we'll highlight the most important ones.
Your commercial vehicle will look professional and help build brand awareness. Also, you will have an easier time going through truck scales, weight stations or when you are stopped by an authority such as a DOT officer. If you are working out of state, some states have implemented USDOT cameras that are designed to read your USDOT lettering. You want to avoid any troubles with the law.
If you have any questions, we would be more than happy to help!
---