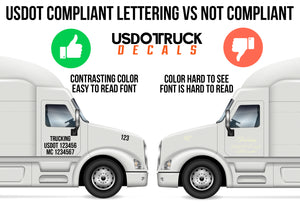 USDOT Compliant Lettering Tips | Informational Guide To Display Your Decal Stickers Professionally & Be DOT Compliant
Are you looking to be DOT Lettering compliant? Here are a few tips to keep in mind to avoid getting stopped by DOT officers.
Your USDOT lettering must be visible from at least 50 feet away. This means your USDOT lettering vinyl must contrast with the color of your commercial vehicle. If your truck is black then white lettering will do just fine, and vice versa.
Also, we recommend using fancy or script fonts. If the DOT officer can't read your lettering in a second, then it's not DOT compliant. DOT camera readers also can't read script or fancy type fonts.
Being DOT compliant is a trucker basic that new truckers underestimate. DOT compliance is crucial in today's trucking industry.  
---