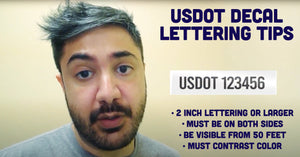 USDOT Number Decal Lettering Sticker Tips | USDOT Regulation Tips
Being US DOT compliant is one of the most important things to get right as a first-time trucker. Your USDOT number should be 2-inch lettering or larger and must be on both sides of your commercial vehicle. Your us dot number needs to be visible from at least 50 feet away and contrast with the color of your vehicle.
Keep these tips in mind when you are ready to order your new usdot truck decals.
---