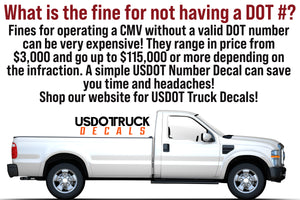 What Is The Fine For Not Having a DOT Number? | Avoid USDOT Number Problems
Fines for operating a CMV without a valid DOT number can be very expensive. They range in price from $3,000 and go up to $115,000 or more depending on the infraction. It can be very costly to operate outside of FMCSA guidelines and it is not recommended. 
A simple USDOT number decal can save you so many headaches and thousands of dollars in fine. Don't get caught running dirty and potentially go out of business.
Checkout our website for custom USDOT truck decal products.
---