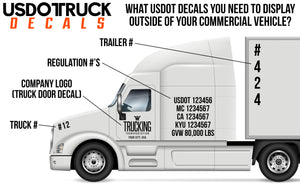 What USDOT Regulation Numbers Do You Need To Display Outside Of Your Commercial Vehicle?
If you are a first-time trucker, knowing what to display outside of your truck is intimidating. Will I get a fine for not displaying correctly? Will I get placed out of service by a DOT officer? We're here to help.
Depending on the type of business you are doing and where you are transporting goods & services can have determine what regulation numbers you need to display.
For starters, if you are doing for profit business, you must display your assigned USDOT number and your legal company name. Also, you must display your truck number and trailer number. This can also be beneficial if you have a fleet.
We always recommend displaying all of the regulation numbers that are applicable to you in a neat and organized template. You can display your USDOT, MC (Motor Carrier), CA (CHP Number), KYU (Kentucky) and GVW on a single sheet to make it easier on DOT officers.
Also, we recommend displaying your brand on your truck door. This can help you get new customers and help build brand awareness.
If you have any questions, our team of knowledgeable representatives would be happy to assist.
---